IT Helpdesk Support
We've all been there – when stuff doesn't work, it can drive you crazy. What makes it worse is when you can't get it fixed… NOW! That's where CCB has your back, all day, every day, with helpdesk care that will keep your team feeling supported.
A helpdesk problem is a business problem – get the support you need.
Call us today
262-886-4222
Do these sound all too familiar?
With CCB's helpdesk working for you, you'll gain:
Freedom
Get back the time and resources you need to get to the next level.
Expertise
No ticket is too big (or too small) for our highly-trained team.
Value
We help you fill your IT gaps while keeping your cost predictable.
Efficiency
We have a knack for delivering a great customer experience.
"I love to brag about CCB as our helpdesk partner because of the great customer service I receive from their support team. They provide great communication and never give up – even when finding a solution is a challenge."
– Janelle Thompson, Marketing Manager, Premier Staffing
Our helpdesk is everything you need it to be.
Technology is the backbone of your business and you need it to work properly – all the time! We'll keep your team happy and working smoothly.
What makes CCB's helpdesk different?
Helpdesk Support Packages
From basic to complete support, you can choose exactly what you need to ensure your end users are taken care of.
• Basic • Standard • Premium
We were pleasantly surprised…
to be recognized by our industry for the level of expertise our engineers work to maintain. Their experience and hard work set them apart and make them the best at what they do. We think you'll be surprised too when you join organizations around the country that use our helpdesk services and see how hard we work every day to delight our customers.
The Tech Elite 250 list highlights a select group of IT providers that have earned the highest number of advanced technical certifications and distinguished themselves with multiple IT specializations and partner designations from the industry's top technology companies.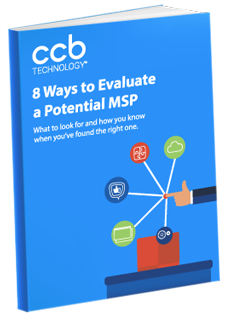 8 Ways to Evaluate a Potential Managed Service Provider
This guide will show you what to look for in a managed service provider – and help you make a choice with confidence. What you'll learn:
Lose your helpdesk frustrations!
We'll manage the end user issues that are slowing you down and turn them into wins.