In early July 2017, a state of emergency was declared in our county. Heavy rains pushed through Southeast Wisconsin leaving local waterways beyond flood stage. Levels climbed on the Fox River and threatened the dam connected to Echo Lake. Flooding knocked out power to 14,000 people for days, devastating homes and businesses before cresting at a record-breaking 16 feet above flood stage – but thankfully the dam held.
Our local story never received national attention, nor should it compared to the larger devastation that occurred across the world last year from hurricanes, tornadoes, earthquakes and wildfires. However, the recovery story which is rarely told, is the most devastating part of a disaster and generally takes longer and costs more than planned. After big news stories fade, the aftermath continues in ways that we can't imagine.
Our July floods receded, but wells were unsafe to use, thousands of sand bags had to be disposed of, debris removed, and then there is "basement sludge" – ever thought about that? I hadn't either until we received a call from a company whose server was immersed in it. This is where the importance of a proven disaster recovery plan gets tested.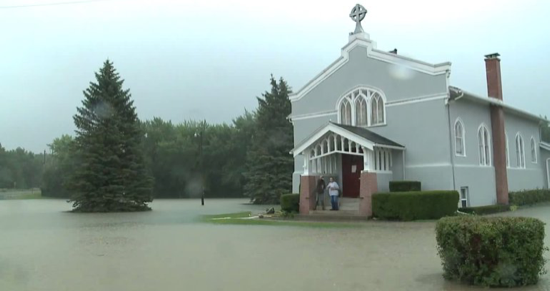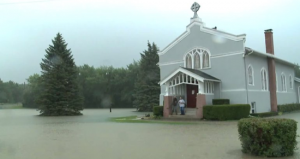 What makes us rationalize that it will "never happen here"? Disasters that affect our business, whether thanks to nature, hackers, or local utilities, have one commonality – they are unexpected. So in the world of IT, how does a company prepare for the unexpected?
This list of questions will help guide your annual DR assessment and planning, and provide resources for additional help.
1. Have you analyzed possible threats and discussed plans for each scenario?
Wisconsin will never see a hurricane, but our spring storms can include wind damage, which could mean time without power, or worse. One 12-hour power outage at CCB was caused by a raccoon in a transformer! Making a list of possible scenarios will help you target the kind of solution that will best suit your needs.
2. Do you know what the cost of downtime will mean financially for your company?
The average cost of downtime is often listed around $100,000 per hour. What size company is that average based on, in what industry and with what necessary functions? To get buy-in from management on the right solution, the conversation needs to start by calculating the cost of downtime relative to your company.
Here's a resource that can give you an estimate of potential financial losses based on your company's information.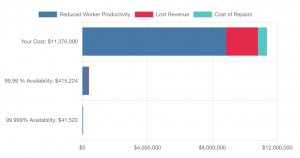 3. Have you prioritized your applications based on what is most critical to recover first?
Here's a simple breakdown of how to categorize your applications:
Mission critical: generally revenue or legally required applications – what data needs protection?
Business critical: critical for your business functionality – what can directly affect your revenue?
Required: Important to your business functionality, but will not directly influence revenue in the short term. HR and marketing apps may be in this category.
Other: Lowest priority with little or no impact on the business.
4. Do you know that your plan will hold up if a real world event comes along?
The only way to tell is if you test, retest and test again. According to a Unitrend's survey, 62% of companies test once a year or less, a schedule that doesn't guarantee successful recovery. The complete spectrum of your company's operations should be tested frequently, especially when there are major changes to your environment.
Is finding time to test the issue? Consider a solution with automated DR testing built in. This can provide you with reporting that can build confidence with management, bring attention to areas that need improvement, and help maintain compliance requirements.
5. Do you know how long it will take to get from disaster to recovery?
The average recovery time most companies set is around four hours, but is that realistic? Even if four hours isn't manageable, there may be ways that you can reduce the time between the "D" and the "R", since that's the important factor in cutting your losses.
With new advances in backup and recovery, there are ways you can quicken your recovery time.
Their video shows you five ways to do that:
6. Are all of your applications, including cloud and SaaS, covered by your plan?
The question is straightforward, but one you should consider. Here is a cloud cost calculator that can help.
7. Are you looking into DRaaS?
When selecting a DRaaS provider, be sure you get key information. What assurances do you have that you'll get your provider's attention during an event? Learn how they test and validate your data and workflows. Ask how extensively and frequently they test and the level of review and reporting they provide afterwards. Finally, be sure you get a one-hour DraaS SLA.
8. What about the day-to-day recovery of lost files?
Can you restore them in 5 minutes or less – from login to restoration? This is the most requested IT function from the user level. Let's face it – for some end users this can be the most devastating type of disaster! (Cue the eye roll from IT.) Using solutions that can meet this need could help alleviate some regular workday frustrations.
You can't recover what you don't backup.
Hopefully this article has given you the knowledge and resources needed to evaluate your company's DR plan. If your company doesn't have an adequate backup solution, a DR plan will not be of much help. Unitrends has a robust backup portfolio, which your account manager can help you assess to find the right solution and set you up with a free demo and trial.
Are you prepared for the upcoming year?
Everyone's hope is for a quieter year on the natural disaster front, but the local stories will continue to happen and are the most important to prepare for. Take time to re-evaluate your DR plan and backup solution to be sure it is still the best fit for your business.