If you're part of a small or medium sized business (SMB), then you know what it's like to wear a lot of hats. Some of these hats, like changing lightbulbs, are easy to handle alongside normal responsibilities, but if IT is treated as just another hat among many, it will hurt your business in the long-run.
When the development and maintenance of technology struggles to be a strategic focus or is changing too quickly for staff to keep up with, you can easily find your company in the midst of unsupported software, antiquated hardware, and decreased productivity.
I'd like to share a list of 4 solutions that can help you guarantee that technology is properly sustained as a catalyst for your business's growth with less effort.
4 Major IT Challenges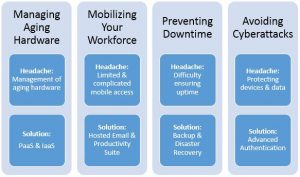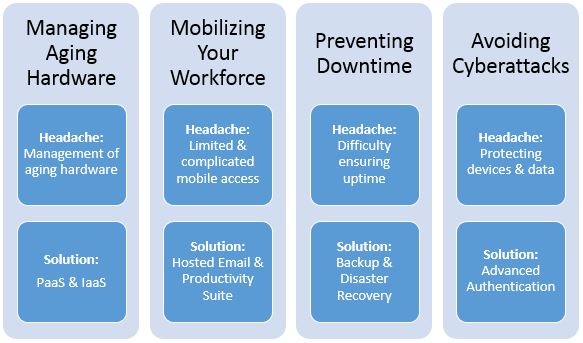 1. Managing Aging Hardware
Remember your last new server? It was new, it was shiny, and you ensured that everything was compliant and operational… but a mere four years later the storage space was insufficient, the processor was 4x slower than the industry standard, and you all-too-soon saw the approaching headlights of software EOS coming towards you.
PaaS & IaaS
Rather than making major capital investments in hardware every few years, cloud solutions like Infrastructure as a Service (IaaS) and Platform as a Service (PaaS) create an efficient environment with constantly up-to-date hardware and software. They also save you the time and headache of installing and managing local machines.
Through a solution like Microsoft Azure, you can use the cloud for virtual machines, backup, web apps, additional computing, and so much more. And with Azure, you only pay for what you use. Tune in to next week's blog for concrete ways to immediately start using Azure.
2. Mobilizing Your Workforce
Don't let mobilizing your workforce turn into technology running away from you. You can advantageously address the technical challenges and security threats that come with it.
Hosted Email and Productivity Suite
A hosted email and productivity suite delivers mobility while mitigating technical challenges and security threats. Since the data is often hosted in the cloud, it is backed up and can be accessed from just about anywhere.
I recommend the industry leading Office 365 for any SMB. It is competitively priced and its tools and functions absolutely obliterate the competitions' offerings. Microsoft's productivity suite comes with hosted Exchange (email) at the center, and includes tools like the Office Suite (Word, Excel, PowerPoint, Sway, etc.), SharePoint, and OneDrive.
Office 365 saves you time and money since you don't need to purchase, manage, or maintain your own Exchange server—plus it meets compliance requirements like HIPAA, so you avoid potential fines from being incompliant.
3. Maintaining Uptime / Preventing Downtime
You may have a business that runs smoothly through day-to-day operations, but do you find yourself tossing and turning at night for fear of a critical device failing or being destroyed by a disaster?
Backup and Disaster Recovery Plan
A full-fledged backup and disaster recovery plan brings more than just uptime and business continuity—it brings peace of mind. Downtime can cost your company close to $12,500 an hour through loss of critical resources and productivity. Backup and disaster recovery solutions keep downtime to a minimum so you stay profitable and meet customer needs.
Your first step towards peace of mind will be to sit down and implement a backup plan. Take a look at our blog about getting started with a backup and disaster recovery plan. The solution that goes with your plan will depend on what you're backing up, but MozyPro and Azure are two solutions we recommend.
MozyPro is the industry leading solution for file and document online backup. It's inexpensive, compatible with Windows, Mac, and Linux environments, and uses the same encryption standards as the military and trusted banking institutions. The moment you select a file for backup, it's encrypted.
As mentioned above, Azure is a great tool for protecting your entire data center. With virtual machines replicated into the hosted environment of Microsoft's geo-synchronous data centers, you could have your environment up and running mere minutes after a disaster.
4. Avoiding Cyberattacks
Kaspersky Labs recently observed that "larger enterprises have become better defended, so cybercriminals are moving down the business food chain" and targeting smaller businesses. Security threats evolve and threaten your environment… even when you do everything right.
Advanced Authentication
Circumventing attacks requires a new approach. Merely enforcing a username + password form of authentication has become dangerous and insufficient, so I recommend an advanced authentication solution from a provider like 2FA.
Advanced authentication is comprised of two simple factors: something you have (card, token, etc.) and something you know (password, question, etc.). With advanced authentication, a lost or stolen password won't be enough to access your environment since logging in requires a 1) username and password and 2) an action like swiping a card or scanning a token. This will augment security, enforce compliance, and simplify the lives of your users.
Now go do what you do!
If you focus on solving these three business challenges with long-term solutions, you'll find yourself with more time to invest in the missions and goals of your company. Technology will begin to catalyze your growth rather than complicate it.
Wearing many hats will always be in the fiber of small and medium businesses, but you don't have to wear all the hats. At CCB, we want to not only deliver the technology that will help, but shoulder the weight of your IT. Contact us about any of these technologies and we'll connect you with one of our Engineers to discuss how we can implement the solution.
MAKE CCB YOUR BUSINESS PARTNER
Work with an IT provider who will come alongside your missions and goals. Let's build a relationship.